SOHO Square
The Entertaiment Centre in Sharm El Sheikh
The award-winning entertainment centre of Sharm El Sheikh is situated in the heart of the Savoy Resort on White Knight Beach and is a magnet for all visitors to Sharm to come and enjoy not only our stylish restaurants, bars and cafés with live entertainers and singers, but also the tennis, squash, ice skating, bowling and much, much more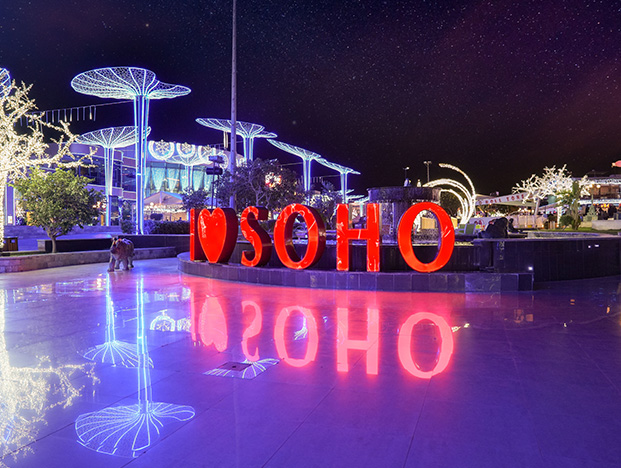 TASTE
Dining
everything from a snack with friends to a gourmet meal
Explore
Nightlife & Bars
When it comes to nightlife in Sharm El-Sheikh, there are venues, dance festivals and club nights to suit every taste!
Each of our clubs, bars and lounges is a unique destination unto itself, with menus offering a diverse selection of classics to complement the latest trends
Fresh fruit nourishes your body & renews your energy..Because we care about your health, SOHO_SQUARE has opened its brand new outlet
we aim to serve good moods, so whether it's a tasty meal, delicious cocktail or a nice fix of live music you're looking for, you'll find it all here
Explore
SOHO Entertainment
amusement, pleasure, and leisure combined in one place
Kids' Arcade
SOHO Square is a perfect place for families - video games, kids' arcade machines, a kids' soft play zone, slides and ball pit, where parents can enjoy coffee below at Café Chino. Add to this a merry-go-around, carousel and fun fair rides for the younger kids to enjoy next to Queen Vic British pub.
Explore More